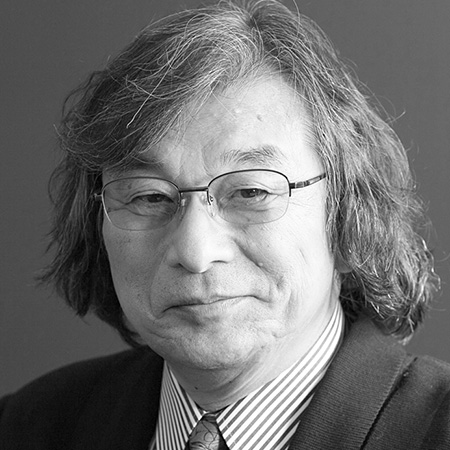 Motoo
NAKANISHI
PAOS Group Representative
Course Director of STRAMD (Strategic Management Design)
Design Strategy Produce / Brand Strategy
Selected post
Director : Japan Graphic Designers Association
Chairman : Jury of "The Good Design Award"
Representative Manager : Corporate Identity Council of Japan
Representative Manager : Japan Design Consultants Association
Director: The Japan Society for the Study of Initiative
Special Adviser : China National Garment Group
Visiting Professor : Waseda University Research Institute of Strategic Design
Lecturer : Ark Toshijuku (private school in the Roppongi Hills complex)
Profile
Born in Kobe, Hyogo Prefecture.
Attended Kuwasawa Design School, and graduated fromWaseda University's 1st Department of Literature with an art major.
1968
Established PAOS.
Currently manages CI branding and business strategy design for approximately 100 companies, combining research and practice for best results,with the establishment of manager-friendly design theories and the development of design methods as a reoccurring theme. Many success stories and representative examples were born through these efforts.
1980
Established PAOS New York
1985
Established PAOS Boston
1995
Established PAOS Beijing
1997
Established PAOS Shanghai
1997
PAOS was mentioned in a textbook used at Harvard and Stanford business schools, and Nakanishi was invited to deliver a commemorative lecture at these universities.
1998
Established Motoo NAKANISHI Office, focusing energy on lectures, writing, consulting, and other personal activities.
1998 – 2000
To privatize the G Mark (Good Design Award) organization, originally sponsored by the Ministry of International Trade and Industry (now the Ministry of Economy, Trade, and Industry) , promoted reforms as General Chair of the Judging Committee.
2000
Established World Good Design (WGD) Inc, primarily promoting new design movements by collecting and archiving good design information from around the world.
2004 – 2008
Lectured as guest professor at Waseda University's Research Institute of Strategic Design.
2006 – 2010
Councilor for Public Relations office of Waseda University
2010
Begin presiding over the new business school STRAMD (Strategic Management Design) .
Major Achievements
Provided services to approximately 100 companies, including Mazda, Daiei, Matsuya, KENWOOD, Bridgestone, Kanagawa Prefecture, Toray Industries, INAX, PIA, Kirin Brewery, NTT (Nippon Telegraph and Telephone Corporation), NTT DoCoMo, Tokio Marine & Fire Insurance, Nippon Life Insurance, Mainichi Newpapers, ITOCHU Corporation, Benesse, HANSSEM (South Korea), China National Garments Group (China), Doutor Coffee, Nissan Motor, Lumine, AOKI Holdings, Waseda University, LITALICO, FRONTEO, JPD, etc.
Awards
1st Katsumi Masaru Design Award
Mainichi Design Award
SDA Award
1st Kuwasawa Design of the Year Award, etc.
Writings
"Design Coordination as a Management Strategy (DECOMAS)"  (Sanseido)
"PAOS Design" (Kodansha)
"CI Revolution" (Asahi Shimbun)
"New DECOMAS:Creating a Design Conscious Business" (Sanseido)
"Corporate Identity Strategies" (Seibundo Shinkosha), etc.