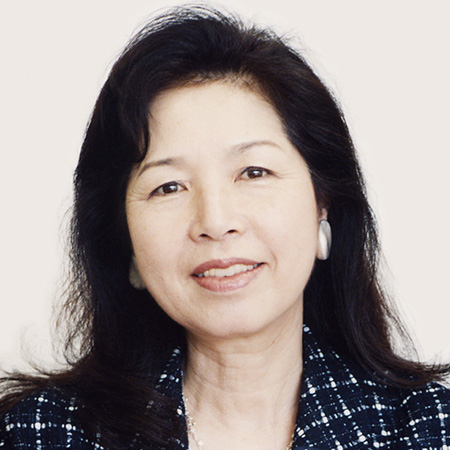 Coco
FUNABIKI
President: Tokyo Design Center, Inc.
Design evaluation, Design management, Interior design, Event planning, Social development
Profile
1972     Graduated from Tokyo Univ. (Sociology)
1989     Vice-president, Tokyo Design Center, inc.
1991 – 1997 Representative, RHAJ Oxford Univ.
1994 –              President, Tokyo Design Center, inc.
1996 – 2009 Selection jury, G-mark (Japan Good Design Award)
1998 –              Chairperson, Japan Design Consultants Association
2003 – 2005 Selection jury, ASEAN G-mark
2010 – 2012 Visiting Prof, Aichi Univ. of Fine Arts and Music
2011 –              Councilor, Musashino Art Univ.
2014 –              Representative, Ikedayama Environmental Association
In 1992 she opened the TOKYO DESIGN CENTER in the central Tokyo as the first interior mart in Japan. It functions as a meeting place for designers, manufacturers and users to select various interior products and building materials such as furniture, fabrics, lightings, tiles and stones. On the eight floors there are showrooms and shops, each of which is devoted to the high quality and design excellence. Because it brings together in a single location those showrooms displaying various brands of interior design, it is proving popular not only among professionals but also, more widely, among the general public. The aim of the Center is to become a cross-road for people and information, by providing a place where fields of design can develop each other.
Design Management
The TOKYO DESIGN CENTER has also served as the secretariat office of the Japan Design Consultant Association (JDCA) of which members are experienced in design consultation for industrial promotion and business operations. The members are very capable of supporting value development projects by coordinating qualified designers of various genres and proposing effective solutions supplemented with fresh and innovative ideas. In addition, it collaborates with three organizations of spatial design, Japan Commercial and Environmental Design Association (JCD), Japan Interior Planners' Association (JIPA) and Japan International Association of Lighting Designers (IALD) who get together on the 5th floor. Recently she has established two new websites, 'Space Design Concierge' and 'crafTec' as well, to publicize outstanding interior works in Japan. These websites aim at indexing appealing spatial design spaces throughout Japan and introducing the Japanese building and interior materials to the world market.