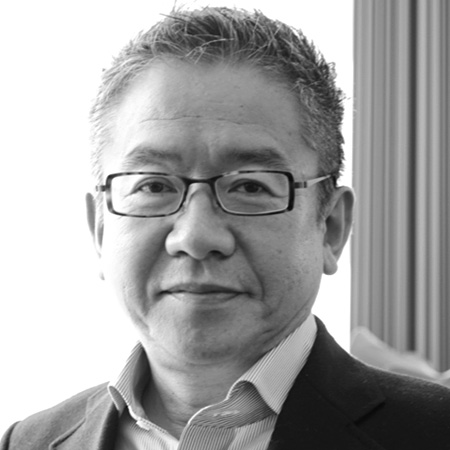 Jun-ichi
YOSHIMURA
PLACEMEDIA
Tama Art Univ.
Environmental Design / Landscape Design
Manifesting landscape
We established ourselves as equal partners in 1990, just around the time clouds of economic doom were beginning to gather over the Japanese archipelago, and it seemed that the bubble economy might burst. Owing to an unprecedented spate of building during the boom period, site had been chopped up and landscaping, which was becoming more widely accepted, was increasingly sought after as a way of healing the wounds. Landscape had also been overused and had therefore become accepted at least in a visual sense during the festivities of those heady times. In whichever case, we embarked on our career with some feelings of anxiety and dissatisfaction with the prevailing circumstances.
Having already worked on several projects, we think that what stuck us as we floundered our way into this vocation was that it was the repeated transformations and changes rather than the constant elements within landscape that that were identifiable. The design of such identifiable phenomena cannot be accomplished simply by expressing the purpose of the creator in the environment through the layers of nature, society and time that lie buried beneath the surface, it is necessary to arrange things so as to appeal to human sensibility. When considered in this light, it can perhaps be expressed appropriately by the concept of what might be termed "scaping" or a manifestation of landscape.
We believe that landscaping is not a matter of construction but one of "scaping" or manifesting things, which as they stand are either invisible or imperceptible, by the introduction of a medium or several media to make such elements discernible. The media introduced into the environment are themselves independent. They neither make any particular statement nor are they bound to do so. We hope that the communication, which occurs between each of the introduced media and the actual landscape itself, will always appeal to the people who live there as something meaningful. This should make it easier to distinguish between "scaped" and constructed landscape and to see that the latter is in fact fabricated.
Engineering, architecture and horticulture have always been the technical bases of construction as a particular endeavor and will probably remain so. However, we wonder if landscape design ought perhaps to be pursued on a different plane, despite the fact that its foundations may continue to be rooted in such ridged technical practices.
Even though there is some degree of scope between "construction" and "scaping," we would like to think that our activities over the past few years have started to trace a trail for future generations. However, not even we ourselves can foresee what lies at the end of the trail. All that we can say for certain is that our love of creative leaning is our incentive.
Biography
1956
Born in Matsue City, Shimane
1980
BSLA Chiba University
1980 – 90
S. Suzuki, Landscape Architect & Associates
1991 –
PLACEMEDIA, Landscape Architects Inc.
1993 –
Instructor of Landscape Architecture, Chiba University
1996 –
PLACEMEDIA, Landscape Architects, Collaborative
2002 –
Instructor of Environmental Design, Tama Art University
2003 –
Registered Landscape Architect
Works
1992 – 02
Josai International University Togane, Chiba.
1994
Naomi Uemura Memorial Park Hidaka-cho, Hyogo.
1996
Kiyosato Museum of Photographic Arts Takane-cho, Yamanashi.
Inagi Nagamine Housing Area, Tama New Town Inagi, Tokyo.
1998
Nagato Regional and Cultural Center Nagato, Yamaguchi.
Hida Takayama Museum of Art Takayama, Gifu.
Tokyo Accident and Emergency Training Center Hachioji, Tokyo
Awards
1996
Prize of Architectural Institute of Japan.
2001
The Good Design Award.
2002
BCS(Building Contractors Society)Prize.